After publishing the post about look-alike Twitter accounts impersonating Olena Zlenska [1], Jesse La Grew, one of our SANS.edu undergraduate interns, wrote scripts to look for more accounts advertising the same cryptocurrency addresses or advertising similar cryptocurrency donations requests. We assume that these requests are fake because they do not advertise addresses used by other legit charities, and they do attempt to impersonate personalities associated with Ukraine's government. The name "Olena Zelenska" may not be unique. We did not flag any accounts using this name as long as they didn't advertise the cryptocurrency addresses used by the original fake account.
As a reminder, the actual (private) account of Olena Zelenska is OlenaZelenska34. This account has now been suspended, but it is not clear why. We also see impersonation attempts for Yulia Svyrydenko, the first Ukrainian prime minister. Some of the fake accounts Jesse found:
OlenaZelenska6 [account now suspended]
Olena_Zelenska [also seen advertising a new Dogecoin address]
YuliaSvyrydenko [advertising the same cryptocurrency address. Tweets now removed.]
YuliaSvyrydenk1
ElinaSvitolina [impersonating a Ukrainian tennis player]
ElinaSvitolina9
UkrainDepartmen
Elon_musk0 [Elon Musk is a common target of various crypto scams]
ThaimGroup [not sure what this account is about, but it advertises the same BTC address as some of the other fake accounts]
CryptoMoneyMa11 [note the number 1 in the end to replace a lower case l]
DymtrusAndriye1
Some sample screenshots: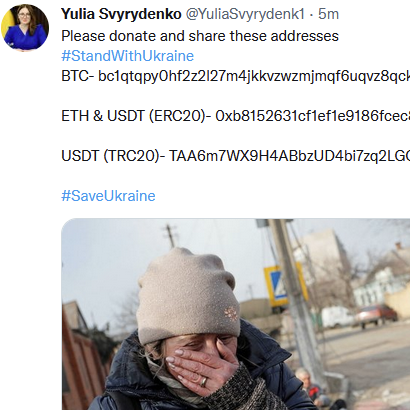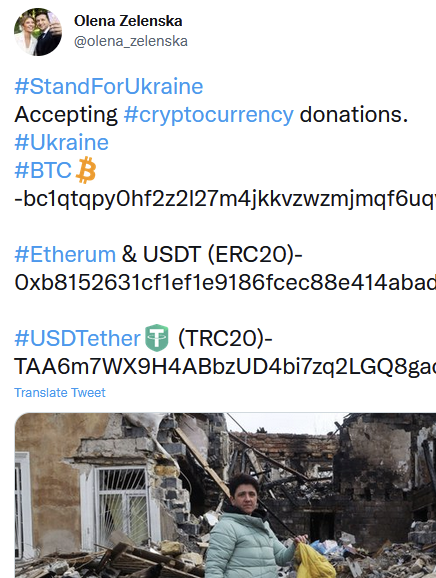 Probably the most disappointing part, but sadly expected, is that Twitter has removed only very few of these accounts. All have been reported to Twitter, and as Jessie showed, a simple script can quickly help identify many of these accounts.
[1] https://isc.sans.edu/forums/diary/Look+Alike+Accounts+Used+in+Ukraine+Donation+Scam+impersonating+Olena+Zelenska/28440/
—
Johannes B. Ullrich, Ph.D. , Dean of Research, SANS.edu
Twitter|
(c) SANS Internet Storm Center. https://isc.sans.edu Creative Commons Attribution-Noncommercial 3.0 United States License.